So the barn show was yesterday, and I rode Tia and non other than the most awesome PD PONY!!!!!!! His owner was on a trip and said I could ride him in the show if I wanted, so you can bet I took her up on that one lol. He was AMAZING, considering he hasn't jumped higher than 18" since he got sold. He was so excited lol, he pretty much just dragged me from jump to jump. We got 1st and 2nd o/f in Modified Hunter (and a 1st on the flat, which his transitions TOTALLY rocked in) and Grand, a 5th in the medal (his course was awesome, but he still doesn't swap), and a 3rd in the Classic. He was just amazing :)

I also took Tia in her first show ever, we did the Model class (she was lined up in second till we went to jog and she totally walked most of it and I had to drag her/judge had to chase her, so she ended up with fifth) and the crossrails flat classes (she doesn't jump). The first flat class was horrible when it came to cantering, she pretty much told me to bite her and refused to canter or pick up her right lead. So after a very embarrasing flat class, our second one went much better, she coopperated, and we got a second. Not bad for her first show :)

Anyways, there are of course pictures :)


Tia in her model class, getting squared up...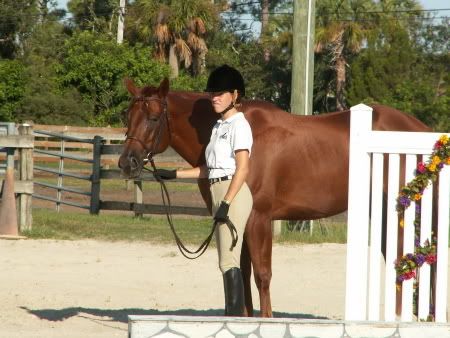 She totally went to sleep, silly mare...
In her flat class...
Being the picture pony for english pleasure lol (her trot was amazing, she was so cute!)
Still going with her cutsey trot :)
Cantering :)
Ok, so my leg is horrible (I have to assume I was spurring her or something there, I dunno) but she's still kinda cute :)
One of our schooling horses (my favorite!), Cloudy, and a student. Couldn't help sharing the picture, he's so cute :)
PD pony with his knees up to his eyeballs :)
Pretty much just dragging me around the corner to the next jump lol.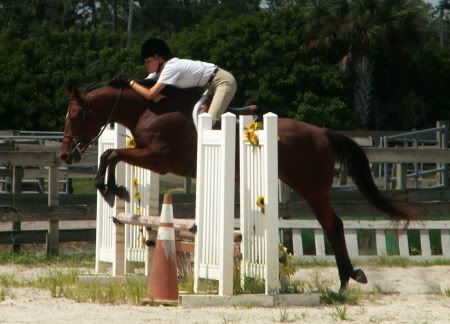 Being a super jumping pony with his knees (even if he's still just cantering over the jump lol)
Bouncing over the wall...
Look where PD pony is. Now, look how far below him the jump is. I <3 that pony :)
Striking his show pony pose while waiting for his next class.
Sproink...
Yay for old jumping ponies, he's still got it :)
Walking like clearly he's the king of the barn...
Giving a bucket a cutsey look...