I hope this works, I had read the rules but I haven't really used LJ properly and posted under cuts for months so I didn't know how to put his name in the cut text - Thanks for being so patientYOU</b>
Name:Catherine Boyd
Age: 22
Birthday: 30/08/1984
Sex:Female
Interests (besides horses of course): indie music. Tolkein.
Where did you find this community? (if it was through promoting, please post the username of the person who promoted here):already a member with other horse

YOUR HORSE

Name: By-Pro-R
Age: 8 months
Gender: Colt
Breed: KWPN
Height: 14hh approx
Color: Bay
Markings: Stripe and 3 white socks
Style of Riding Used for: will be used for dressage
Best Events: at the moment - looking gorgeous and playing!
Worst Events: standing still for a long period of time without fidgeting or chewing something!
Awards(if any): 1st diploma at British Breeding foal show with 8.0 marks, 3rd place in section at Championships
Why we should accept your horse (please use details): By-Pro is my baby, he is such a character and I just love him! He once grabbed a piece of paper from a shelf outside his stable and chased his Mum around the stable with it!! He is wonderful to watch in the field, just playing and being a baby but he is also quick to learn. I've taught him to tie up calmly, accept being groomed and rugged as well as being led and having feet picked out. He also knows to back up from the stable door when I enter and due to him attending 2 foal shows he is fine with being plaited and wearing bandages (to keep his legs clean). He is so EXCITING to own and I can't wait until he grows up - we are going to have so much fun. Instead of buying a ready made dressage horse which I refuse to do (actually I can't - they are too much money!) I am going to train him from the very beginning, though he will be professionally backed (I am saving now!) all his schooling will be done by me like my other horse and we're gonna have such a great relationship because of it. It may wont be easy, horses never are but I don't care! I apologise if the cuts don't work, I have not done this for a very long time!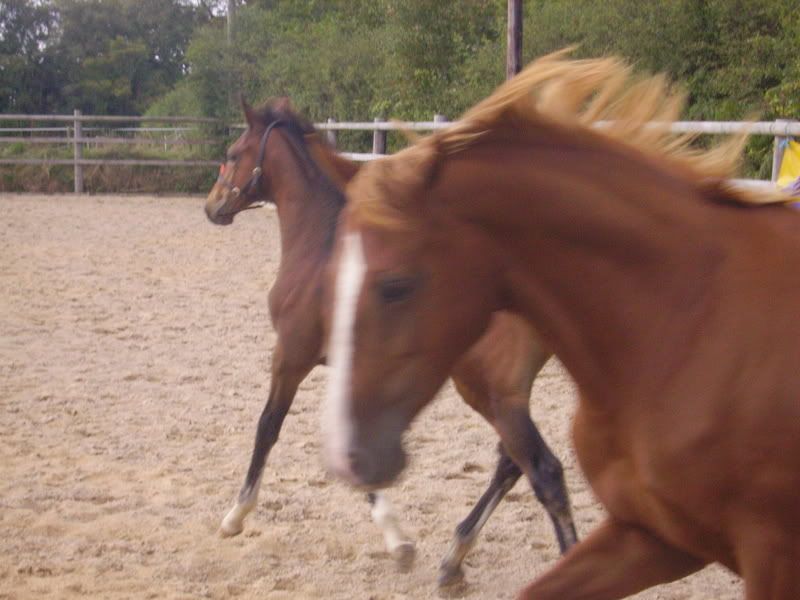 :